Reduces high move-in costs for residents, increasing the pool of qualified applicants

Security deposit replacement for the term of tenancy starting at $5 per month

Flexible tenancy coverage (by property) allows the landlord to choose from $250 to 3 months of rent protection

Provides coverage to offset legal fees in the event of an eviction

Turns a cost center into a profit center!


Increases the pool of qualified residents by offering credit enhancement to declined applicants, keeping occupancy rates high

Agile lease coverage guarantees the landlord from 4 to 24 months of rent, utilities, and monthly recurring charges

Provides coverage to offset legal fees in the event of an eviction

Coverage includes re-rent shortfall in rent reduction environments

Direct-to-consumer marketing brings qualified residents to your buildings
More Coverage, Less Up-Front Cost for Every Applicant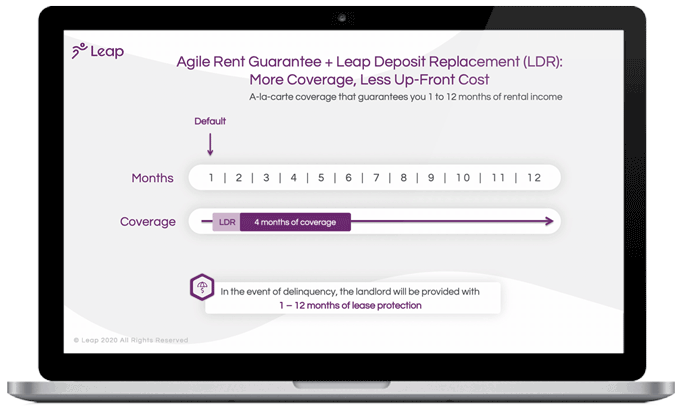 Your residents want options. You want assurances.
Leap's products allow landlords to expand their tenant pool, increase their NOI, and decrease their bad debt, all while reducing the friction of the leasing process.
It's a Leap forward in leasing innovation.
DEPOSIT REPLACEMENT
RENT GUARANTY
DEPOSIT REPLACEMENT

Pay a small monthly fee as low as $5 instead of a large upfront security deposit.


Insured for loss of rent, physical damage, utilities, monthly recurring charges, and legal fees.
1. Resident remains responsible for damage and unpaid payments
2. Backed by A.M. Best A-(Excellent) rated property and casualty insurance company
RENT GUARANTY
A Leap Forward in Leasing Innovation
Leap gave me the opportunity to live in an apartment that I would have not been able to without them. They were very helpful and fast communicators when I contacted them. I would recommend using their service!
Jordan M.
Leap made the process of applying really easy. They're very responsive to any questions you may have and they send out daily email reminders about your application to ensure your place where you're applying is held.
Jose C.
I really am thankful for this company! I would definitely use them if you need help with a co-signer. They helped answer any questions I had and made sure I was able to get everything payed for. Thank you so much
Kaylyn R.
I contacted LEAP and it was such an easy process. They act as a guarantor/co-signer when I didn't quite income qualify for my apartment. They were super prompt and provided excellent customer service.
Brittany S.
Leap currently works with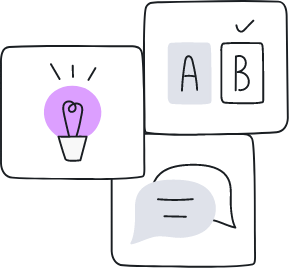 Leap is a win-win for both properties and residents.